This online resource is a collection of my personal insights and experiences with the Canon Rebel T3i, organized into an easy-to-understand guide full of tips, tricks and advice.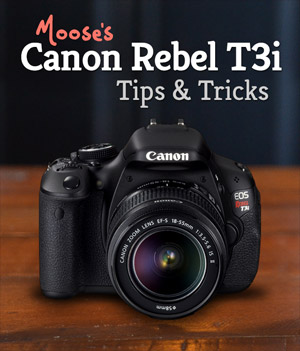 Howdy! I want to welcome you to my corner of the web where you'll find helpful how to's, tutorials and recommendations for the Canon T3i all written by me, Moose Winans.
This in-depth guide is primarily meant for beginners, newbies and novices. If you don't fall into one of these categories you're more than welcome to hangout here…just understand that I'll be leaving out the lengthy technical explanations.
If you're new around these parts, I encourage you to bookmark this page and come back from time to time. Happy shooting! :)
News & Notes
NEW! (November 27, 2013) Woohoo! The wait is finally over…I'm proud to announce my 1st ever Cheat Cards for the Canon T3i (600D). If you've ever been in a situation and wondered which settings to use with your camera, these nifty little cheat sheets will tell you exactly which settings I would start with. My settings are specific to the Canon T3i (600D) and select Canon lenses. This allows me to provide very detailed settings which will improve your odds of capturing a keeper. Sound good? Click here for more info.
More How To's & Tricks Added (June 4, 2012) – I just updated the How To's & Tricks page with more tips and helpful info. I'm currently working on more in-depth tutorials, so stay tuned!
Memory Card Info (April 20, 2012) – I just finished my in-depth memory card write-up for the T3i which makes sense of image/video capacities, class ratings, speeds, best brands, etc… so check it out. Happy shooting! :)
Instant Rebate Available (April 18, 2012) – Looks like Canon has an instant rebate for the Canon T3i. It expires in a couple days, so if you're thinking about purchasing a T3i…now might be the time to do it. Happy shooting! :)
Better late than never (March 28, 2012) – Ok, so things are finally moving. I've got some tips and in-depth articles rolling out in the next few weeks. I just added a guide that breaks down the specs in layman's terms, a little tutorial for those who'd like to learn how to shoot in black and white (in-camera) and also an in-depth look at memory cards for the T3i. Happy shooting! :)
3, 2, 1…Blast Off! (March 15, 2012) – Well, I finally got around to creating a resource for the Canon T3i. Blame it on the baby. I've been knee deep in diapers since July, so give me a break. :)
As with my other resource sites here at Camera Tips, I hope this becomes your new secret hangout for all things T3i. If you have questions about settings, lenses and other odds and ends, go ahead and post it to the forum.
If you're a Facebook junkie, you can post your questions and comments on the official T3i Tips page and I'll get back to you lickety split. Happy shooting!